On-Site Wholesale, Mobile Alloy Wheel Repair
Our on-site alloy wheel repair services help dealerships, tire stores, auto auctions and collision shops turn vehicles quicker and increase their annual revenue. As part of our high-quality, full-service alloy wheel repair solutions we also offer a number of wheel and rim repair services for our wholesale customers.
To get started with Alloy Wheel Repair Specialists on-site wheel repair services, find the alloy wheel repair location nearest you.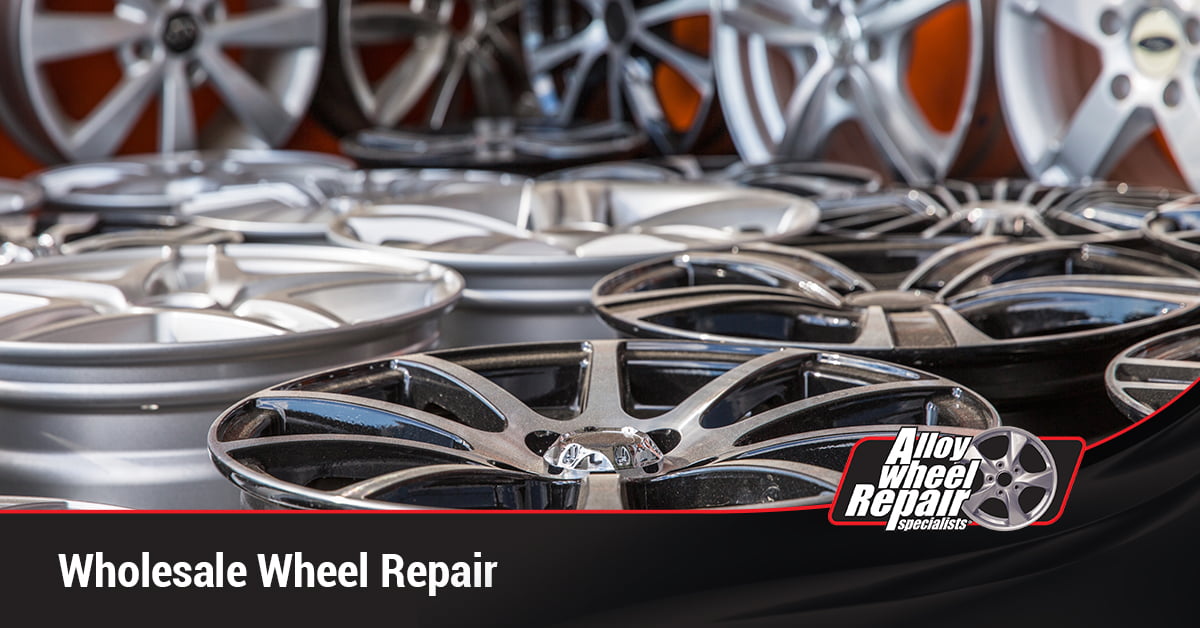 On-Site Wheel Repair and Wheel Refinishing for Auto Dealerships
We partner with auto dealerships in several ways. The first is through on-site wheel and rim repairs for their pre-owned inventory. Second, we can implement a customer pay program that allows the car dealership to upsell wheel repair and custom alloy wheel coloring services. And finally, dealers can benefit by selling our wheel repair service and custom wheel coloring service through their finance office. In cases of severe wheel damage, we offer wheel repair pickup and delivery service through the dealership's collision department.
Onsite Mobile Wheel Repair – Our Technicians Come to Your Car Dealership
Each of our locations can provide daily dedicated alloy wheel repair service at your dealership location in our self-powered, climate-controlled mobile wheel repair units. These mobile units allow our technicians to work no matter the weather conditions. Since our mobile units operate outside of your car dealership, our technicians will not take up a bay in your automotive repair shop.
On-Site Wheel Refinishing and Straightening for Collision Shops
Instead of waiting for replacement wheels, save time and money with our on-site wheel refinishing and straightening service. Wheel repairs are usually completed within a day, which dramatically reduces costs and cycle times.
Our wheel remanufacturing service provides free pick-up and delivery of alloy wheels that have severe damage, are missing metal, or have special CNC and polished finishes. These can be repaired with a 24-hour turnaround – and we work with most major insurance companies.
We Bring Our Mobile Wheel Repair Unit to Your Collision Center
The collision centers that choose Alloy Wheel Repair Specialists appreciate the fact that while their technicians are repairing the collision damage to a car, our tech is fixing the wheel damage on-site, from inside their mobile repair unit. This makes it easier to get your customers' cars repaired and back on the road as quickly as possible.
Mobile Wheel Repair for Auto Auctions
Our mobile repair units are perfect for the high-volume wheel repairs required at auto auctions. These repair units are equipped with two-room workshops that have the capacity to repair multiple wheels at one time. Every mobile unit is self-powered and climate-controlled, with the ability to deliver quality cosmetic wheel repair, rain or shine. Thanks to our onboard wheel straightening system, on-site wheel straightening is also included.
We currently provide dedicated wheel repair services with the major auction houses throughout the United States on a daily basis.
On-Site Alloy Wheel Repair for Tire Stores
Our on-site wheel refinishing and wheel straightening services can be an excellent source of additional revenue for tire stores – and a variety of other auto services providers. We partner with tire store locations to provide a low-cost solution for your customers who have wheel or rim damage that requires repair before their tires are mounted. Our on-site service helps you get these customers on the road quickly.
Tire Stores Can Earn by Offering Custom Wheel Coloring Services
Our auto service partners are also able to sell wheel custom coloring packages at the point of sale. Our wheel powder coating and custom wheel paint service are great ways to upgrade a vehicle's appearance for the customer – and for your tire store or automotive accessories shop to earn significant additional profits.
Common Questions About On-Site Alloy Wheel Repairs
We can make many alloy wheel repairs – like fixing curb rash or repairing a bent rim – in our mobile wheel repair units. However, severe damage that requires wheel remanufacturing must be addressed at one of our locations. In these cases we provide free pick-up and delivery service, as well as 24-hour turnaround.
We have a custom wheel paint and powder coating service that can match the color or colors of the alloy wheels to your customer's exact specifications. Powder coating will need to be completed at one of our wheel repair locations.
No. Our alloy wheel repair mobile units stand alone and are fully equipped. We have the ability to repair multiple alloy wheels at once in any weather – and without taking up space in your facility.
Offer Our On-Site, Mobile Alloy Wheel Repair Service to Your Customers
We offer high-quality results and expert advice on all types of alloy wheel repairs and wheel remanufacturing. We enable car dealerships, collision centers, auto auctions and tire stores to better serve their customers who need mobile wheel repair, all while increasing revenues for these businesses. Find the Alloy Wheel Repair Specialists location nearest you to get started today!