Wheel Remanufacturing Services in Locations Across the United States
Wheel remanufacturing is the best approach for repairing extensively damaged alloy rims. If your wheels have experienced severe structural damage, rim remanufacturing is the only way to fix them. The Alloy Wheel Repair Specialists have over 120 locations across the United States and can expertly advise if your wheels can be safely repaired.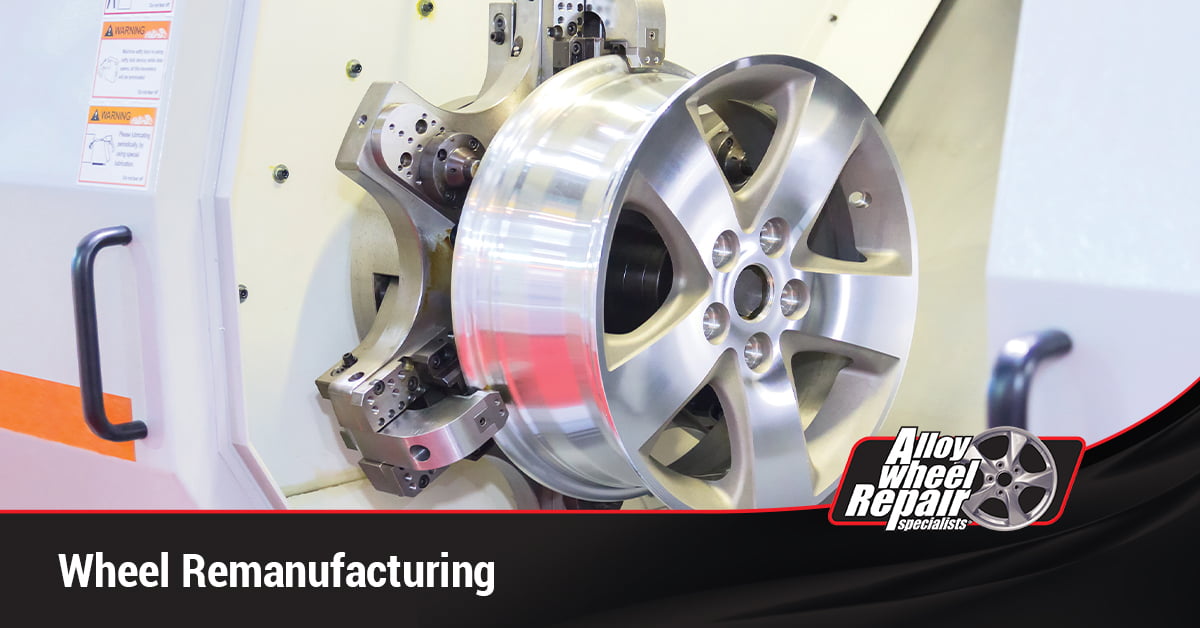 Our Wheel Remanufacturing Process
After removing the wheels from the vehicle, our technicians will follow safety protocols to confirm the rims can be repaired. The wheels can then be stripped of their outer coat and further inspected. In many cases, significant damage means the wheels need to be welded. But wheel straightening may be required before welding can begin.
The welding process can seal cracks and even stitch weld an edge that has broken off the wheel. While the process is safe, our technicians only weld alloy rims if they are certain it will not compromise the structural integrity of the wheel.
A CNC machine is used to provide a smooth finish to the wheel. The precision of a CNC lathe ensures you receive a high-quality polished finish that looks brand-new. After inspection, the wheels can then be painted or powder coated in the color of your choice.
What Causes Serious Wheel Damage?
Most significant wheel damage is caused by high-impact collisions. Frequently, potholes are to blame for cracks forming on the rim. Collisions with curbs can also be enough to crack a wheel. In many cases, a minor crack will already be present before the collision, but to discover it would require a close inspection.
Why Wheel Remanufacturing Is so Important
Cracked or bent alloy wheels are naturally a safety concern for drivers. Issues can range from a minor inconvenience to a serious handling risk. Common problems include the following.
Lower fuel economy
Flat tires
Poor vehicle handling
Alloy Wheel Repair Specialists can provide wheel repair services that transform a damaged wheel to its original state.
Common Wheel Remanufacturing Questions
Some wheels will have suffered such damage that remanufacturing will not be possible. However, we have a large inventory of OEM replacement wheels for a wide range of car makes & models.
Our experienced technicians will analyze the rims to ensure they can be safely repaired. The process involves checking the location and direction of the crack.
Most alloy wheel refurbishment can be completed in 24 hours. Search for your nearest location, and they will advise you on the anticipated repair time.
Contact Our Expert Wheel Remanufacturing Specialists
If your rims have suffered significant damage, wheel remanufacturing could be your best option. The Alloy Wheel Repair Specialists are waiting to offer expert advice and high-quality service. To find out more, search for a location close to you and request a quote online.